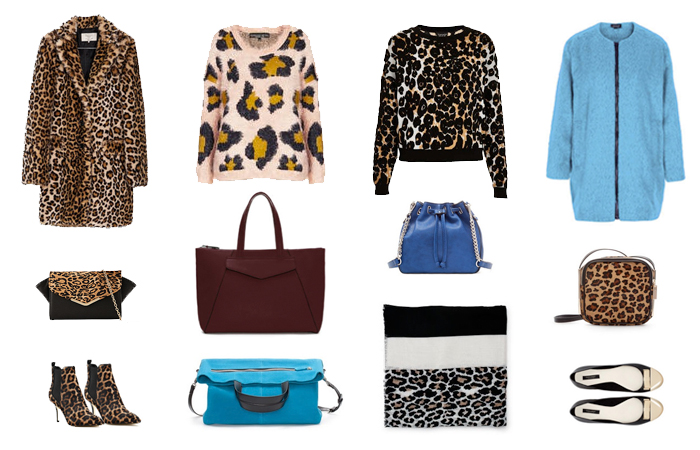 Leopard is one of those timeless prints that gets an update every now and again. Here are some ideas for wearing leopard NOW.
Leopard Coat Zara $159.00 CAD; Pink Sweater Topshop $88.00 USD; Graphic Sweater Topshop $96.00 CAD; Blue Coat Topshop $190.00 USD; Leopard Chain Purse Aldo $50.00 CAD; Burgundy Tote Zara $39.90 CAD; Blue Bucket Bag Zara $39.90 CAD; Small Leopard Bag Zara $49.90 CAD; Leopard Booties Michael Kors $215.00 USD; Foldover Tote Zara $59.90 CAD; Scarf Club Monaco $89.50 CAD; Gold Bow Flats Zara $69.90 CAD
Be bold
Add one bold leopard piece to an all-black ensemble and BAM, you're out the door in style.
Get graphic
Leopard comes in all shapes, sizes and colours. Have fun – experiment with different sized spots and colours.
Complimentary colours
Ditch the old school navy, cherry red and brown. Kitty's favourite new colours are deep, glossy reds, bright blues and gold.
Tip: When mixing leopard prints, scale is key. Mix big spots with small ones to create prrrrfect harmony.
Happy shopping!
Jenn
P.S. Want more? Watch my "How to Wear Leopard Print" segment on Steven and Chris.